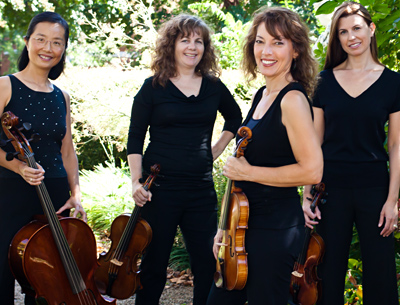 The Harbor String Quartet was formed in 1997 by members of the Virginia Symphony as part of an expansion of the individual's musical interests. The group began primarily to perform classical recitals and concerts in the Hampton Roads area but interest in other musical genres soon added to the quartet's repertoire.
The group consists of Allegra Havens (violin and one of the founding members), Gretchen Loyola (violin), Anastasia Migliozzi (viola) and Lei Lei Berz (cello). The quartet has been honored to represent the Virginia Symphony and Virginia Arts Festival on numerous occasions, performing at benefits and other events. The group also performs at weddings and celebrations averaging over 30 between the months of April-October.
Members of the group have played for such artists as Josh Groban, Mannheim Steamroller, the Trans-Siberian Orchestra, the new Tommy Lee rock band and the Turtle Island String Quartet. The group is at home in performing music of Bach, Handel and Mozart as much as the Beatles, Jimmy Hendrix and Mark O'Connor.